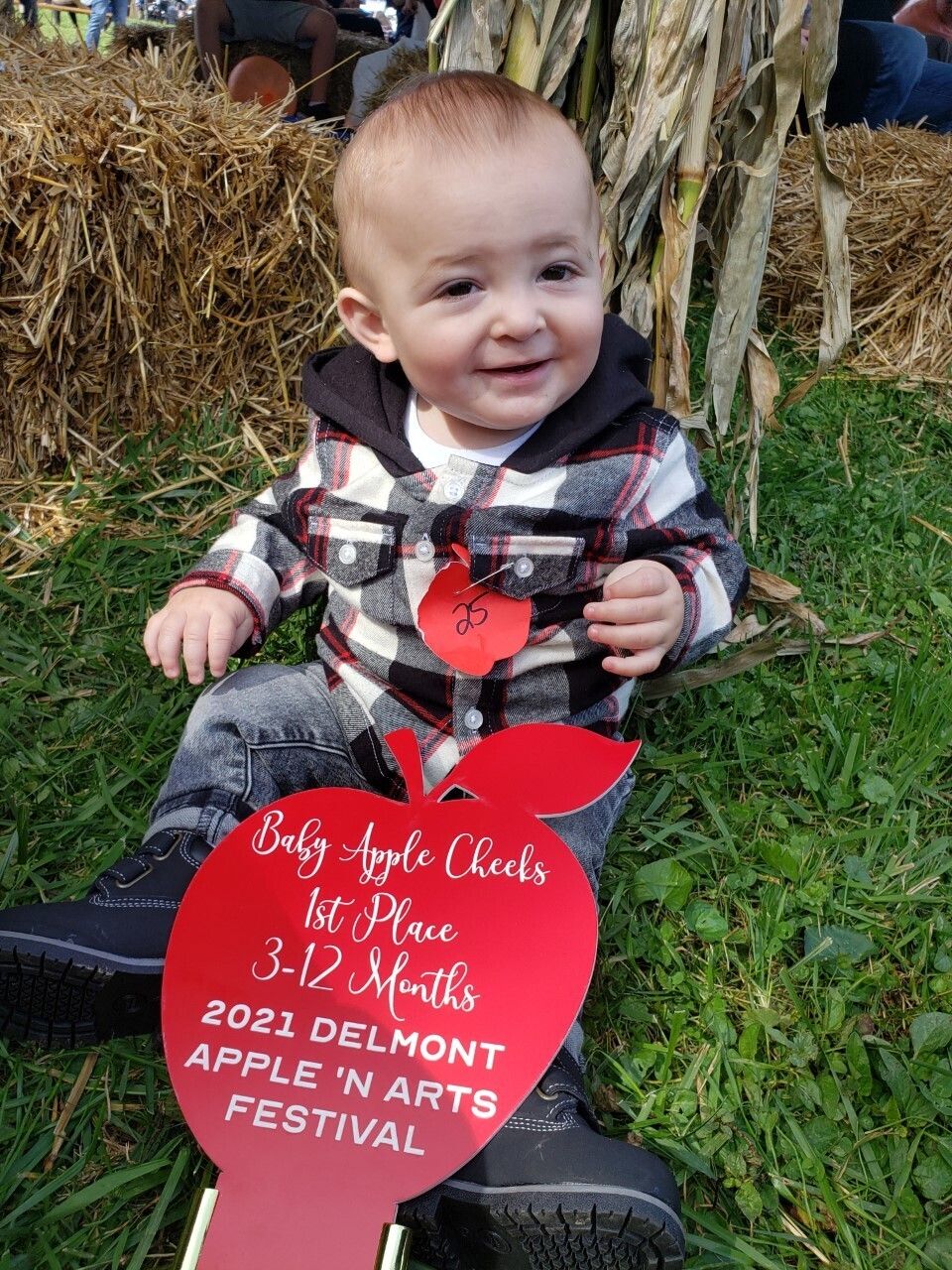 BABY APPLE CHEEKS
You know your child is the cutest, now prove it to the world.  Enter your child into the famous Delmont Apple 'n Arts "Baby Apple Cheeks" contest to give him/her bragging rights for life.

When: Saturday, October 1st. Registration for all ages is 11:30am at the main stage.
3 months – 12 months (Noon -12:30pm)

1-2 year olds (12:45 – 1:15pm)

3-4 year olds (1:15 – 1:45pm)
Who: Contest is open to children ages 3 months – 4 years old. Parents are welcome to accompany children on stage.

Prizes
Each participant will receive a participation ribbon and prize bag.

There will be a "People's Choice" award based on audience voting

Trophies will be awarded to the first, second and third place participants in each age group
Cost
Entry fee is $10.00/child with a $5.00 fee for each additional sibling

Checks or money order accepted

All proceeds donated to Delmont community organizations; no refunds after registration

If registering after September 23rd, please bring check or money order to the event

Checks will be cashed after event to help with accounting purposes
Entry
Pre-registration is necessary to compete! There will be no walk-on registrations this year. 

Pre-register by completing the form below. Please submit a separate form for each child. Please mail your check or money order to:
Mail to:
Baby Apple Cheeks Contest
c/o Delmont Apple n' Arts Festival
P.O. Box 336
Delmont, PA 15626
Please make checks payable to "Delmont Apple 'n Arts Festival, Inc."
Deadline for registrations is September 24, 2022.
Please be sure to include your child's name and age group as well as parents name.  Please be sure your check is mailed in time to be received by Sept 28, 2022. If there is a chance we will not receive the check please bring it with you to the Apple Festival and present it at Check in.
Check in will begin at 11:00 AM  to the right of the stage. Your child will receive their contestant number and will line up in numeric order when their age category is ready to compete.
Participation prizes and prize bags will be awarded once your child leaves the stage.